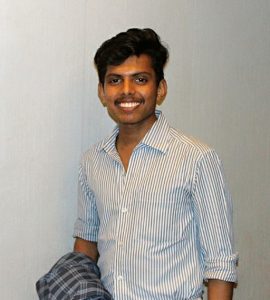 Detail-oriented WordPress Developer with extensive experience in developing WordPress plugins to solve business problems. Love to watch movies, roam around the city and eat chocolate ice-creams!
I am Sumit Pore working at WisdmLabs as a Senior Software Engineer. I have got around 6 years of experience and in this time, I have tried to solve issues related to Core PHP, WordPress, JavaScript/jQuery, Apache, Nginx and Ubuntu for different projects. I have also worked on cloud technologies like AWS and Digital Ocean.
My responsibilities at WisdmLabs involve mentoring new joinees, guiding colleagues in their projects, setting up processes so that we as a team build great code, learning new technologies to level up our technical expertise, and building products to solve business problems. I enjoy writing articles and you can read my articles on the WisdmLabs's blog.
Available for Freelancer Work
Leading and architecting solutions for ECommerce Products
100%
WordPress/WooCommerce Plugin development
100%
Mentoring and Training
90%
Verify Efforts and Estimations for a project/milstone
85%
Experienced in
○ Website Speed Optimization
○ Setting up SSL certificates
○ Working on CodeIgniter framework
○ Integration of Payment Gateways.
○ Searching causes behind compromised sites.
○ Performance optimisation of sites.
○ Working with cloud technologies like AWS or DigitalOcean.
○ Configuring web servers like Apache or Nginx
○ WordPress theme and plug-in development
○ Setting up git checks to control the quality of code being pushed
○ Setting up Continuous Integration software
Mumbai University - Airoli, India
Bachelor of Engineering in Electronics
I have passion for Electronics and therefore I decided to pursue engineering in Electronics.

While doing engineering, I came across programming and Web development. I liked them so much that I learnt them alongside engineering and created my first website.

Microprocessors and Microcontrollers are my favorite subjects. and I am always ready to work on projects related to them.

Created Software based prototype demonstrating working of Washing Machine.

My Final Year project was 'Maximum Power Point Tracking for a solar-powered inverter'.
MPPT was designed to ensure that the system operates as closely to the Maximum Power Point (MPP) while being subjected to the varying lighting and temperature. It used Fuzzy Logic to decide maximum power that can be drawn at any particular situation.

The output of the solar panel varies because of insolation and temperature. Output obtained from solar panel is given to the MPPT which gives Maximum Power at that particular value of insolation and temperature.It also tries to keep this maximum power fix so that when the power from MPPT is fed to the inverter as a dc source,then inverter can work with higher efficiency.